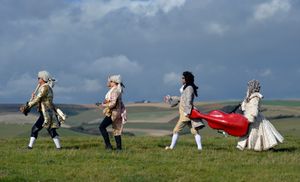 Red Priest is the only early music group in the world to have been compared in the press to the Rolling Stones, Jackson Pollock, the Marx Brothers, Spike Jones and the Cirque du Soleil. This extraordinary acoustic foursome has been described by music critics as "visionary and heretical," "outrageous yet compulsive," "wholly irreverent and highly enlightened," "completely wild and deeply imaginative," with a "red-hot wicked sense of humour" and a "break-all-rules, rock-chamber concert approach to early music." 
Founded in 1997, and named after the red-headed priest, Antonio Vivaldi, Red Priest has given over 1000 sell-out concerts in many of the world's most prestigious festivals, including the Hong Kong Arts Festival, Moscow December Nights Festival, Schwetzingen Festival, Prague Spring Festival, Ravinia Festival, Bermuda Festival, and in most European countries, Japan, Australia, New Zealand and throughout North and Central America. The group has been the subject of hour-long TV profiles for NHK (Japan) and ITV (UK) - the latter for the prestigious South Bank Show in 2005. 
In 2008 Red Priest launched its own record label, which is now the home for all of the recordings of the ensemble and its members, and has attracted much attention in the music press worldwide.  Gramophone said of the group's 'Handel in the Wind' CD 'Quite brilliant… some of the most extraordinary instrumental playing you're likely to hear', whilst their iconic recording of Vivaldi's 'Four Seasons' was hailed in the same publication as one of the four all-time best recordings of the work.  Other releases have included a swashbuckling collection entitled 'Pirates of the Baroque', the group's all-Bach blockbuster, 'Johann, I'm Only Dancing', and 'The Baroque Bohemians', which surprised the major labels by reaching No.1 in the UK Specialist Classical Chart in 2017.
THE MEMBERS
Piers Adams is the modern day wild man of the recorder.   His stubborn refusal to accept the natural limitations of his instrument has led the Washington Post to describe him as 'superhuman', and International Record Review to declare: 'The things Adams does with his recorders defy the imagination.'   Born in 1963 he trained initially as a physicist before joining the tail end of the Dutch recorder movement of the 1970s and 80s, rapidly branching out from there to create his own, unique sound and stage personality.  Innovations in recorder design – most recently the 'Eagle Recorder' – have enabled Adams to expand the instrument's repertoire to include every musical genre from renaissance to romantic to rock, and to astonish audiences with its expressive possibilities.   His concert tours have taken him to all corners of the globe, performing over 1000 concerts with his iconic baroque quartet Red Priest, as well as recitals and concertos with international symphony and chamber orchestras, and numerous TV and radio appearances.  Visit www.piersadams .com for full information about his CD recordings and concert schedule.
 
Julia Bishop discovered her love of early music during her studies at the Royal College of Music when she first heard the Baroque orchestra directed by Catherine Mackintosh and knew from then that she would make the Baroque violin her speciality.  Thirty-five years later Julia is recognised as one of the most colourful exponents of the instrument. She has toured the world extensively and made numerous recordings with all the period instrument orchestras in the UK including the London Classical Players, the Hanover Band, the Academy of Ancient Music, the English Concert, with whom she was a member for six years, and as leader and soloist with the Gabrieli Consort and Players for five years.  A founder member of Red Priest, Julia stepped back from touring in 2015 for family reasons, and now returns to the ensemble for the 2023 season. In her time away from the group she has become increasingly popular for her lively and informative teaching on workshops and courses around the UK and at the University of Chichester Conservatoire.
Angela East is widely respected as one of the most brilliant and dynamic performers in the period instrument world, praised in The Times, London, for the 'elemental power' of her cello playing. She has given numerous concerto performances in London's Queen Elizabeth and Wigmore Halls, and has performed as soloist and continuo cellist with many of Europe's leading baroque orchestras. Among her impressive list of concert credits are La Scala, Milan, Sydney Opera House, Versailles and Glyndebourne. In 1991 Angela formed 'The Revolutionary Drawing Room' which performs chamber works from the revolutionary period in Europe on original instruments, and whose first eight CDs have received glowing reviews world-wide. Her long awaited disc of Bach's Cello Suites has recently been released on Red Priest Recordings. Her CD of popular baroque cello works, 'Baroque Cello Illuminations', has received excellent reviews and was chosen as 'CD of the Fortnight' in Classical Music Magazine.
David Wright has spent many years trying to shed his reputation as the hard man of the harpsichord, having come to the instrument as a refuge from his East End gangland upbringing.  The final spur to pursue a career in music came in 1994 when, as a 17-year old, he found himself facing a sawn-off shotgun at close range in an underground car-park.   Since that time he has reinvented himself as something of an 18th century fop and lothario, thanks to several years of study in sundry London music colleges (he was previously self taught) and a penchant for baroque beauty and morals.   With his harpsichord he has toured throughout Europe, America and the Far East, sharing the stage with such Early Music luminaries as Emma Kirkby and James Bowman, performing concertos, directing orchestras and operas (including the first modern day performance of Arne's The Blind Beggar of Bethnal Green), and championing the instrument's solo repertoire – in particular Bach's Goldberg Variations.  His unconventional background and unsurpassable technique made him a natural to join Red Priest, with whom he has toured and recorded since 2011.