April 2019 - A Truly, Madly Baroque Spring!
Phew - that was a Spring to remember!   Red Priest are finally back in the UK after a whirlwind trip around the world... In January it was America, with concerts in Miami, Virginia and Milwaukee, then a European spree visiting Germany and Switzerland, a week in Bonny Scotland followed by three in New Zealand!  And after that - and a few concerts on home turf - Piers and David returned to America for duo and solo projects whilst Adam took his Stone Soup duo to Ibiza... All in a season's work!   
Much of the recent Red Priest performing has been focussed on their brand new programme Truly Madly Baroque, which can be heard in the UK several times over the coming months, including a London  premiere at King's Place concert hall - visit the Tour Dates page for full info. 
October 2017 - Number One!
It's official!  The Baroque Bohemians have entered the Official UK Specialist Classical Chart at No.1 !
Yes, The Baroque Bohemians have leapfrogged over releases from all of the major labels to claim the coveted top spot.
We are also highly placed at no. 5 in the Classical Artist Albums Chart, and will be featured on the Classic FM Chart show this Sunday October 1st from 5-7pm.  Do tune in and tell your friends to do the same!
A massive thank you to everyone who came to last week's concerts and bought the CD - this is entirely down to you!  We now have the task of keeping the disc in the charts - and the best way to do so is to buy your copy here!
September 2017 - Baroque Bohemians
Well the summer break is over and the new term begins - and what better way to chase off the Autumn blues than with a BRAND NEW RED PRIEST CD?
Yes, The Baroque Bohemians are finally here, gracing the shelves of the Red Priest office with their artful presence - an incandescent mix of baroque virtuosity and gypsy cunning, which we know you'll enjoy!  Works by Biber, Telemann, Vivaldi, Handel, Byrd, Campra, Nicholson and the unpronounceable Mielczewski mingle with amazing, original East European fiddle tunes; lines between old and new, art and gypsy music, serious and tongue-in-cheek, authentic and imagined are deliberately blurred, so you won't know - or indeed care - where one one ends and the other begins...  
Until its official release in October the CD/download is available ONLY here on the Red Priest website - and to celebrate this latest Red Priest milestone we are running a limited period special offer of 20% of ALL previous titles (including solo discs); a perfect opportunity to complete your Red Priest collection.  Visit our SHOP PAGE to take full advantage!
If you want to catch us live over the next few weeks here are a few dates for your diaries - we hope to see many of you on our gypsy travels!
Sept 16 Aalen, Germany
Sept 22 North Wales Festival
Sept 23 Botley (Hants)
Sept 26 St Georges Hall Liverpool
Oct 4 Worksop College
Oct 5 Richmond (Yorks) Georgian Theatre
Oct 6 Cockermouth Kirkgate Centre
Oct 10 Winchester Theatre Royal
Nov 4 Carmel (IN) USA
Nov 11 Gettysberg, (PA) USA
Nov 13 Miami USA
Nov 21 Wimbledon Festival
Dec 10  Swansea University
Dec 17 Paris Ile Seguin
Full details and ticket info can be found on our TOUR DATES page.
That's all for now - enjoy the new CD!
Cover Feature
Read our new cover feature article in Early Music Today, celebrating Red Priest's 20th Anniversary Season!
September 2016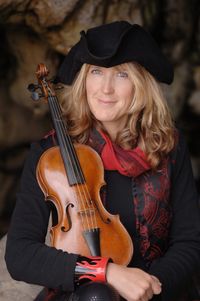 A tumultuous year for Red Priest...  Last September violinist and founder member Julia Bishop was diagnosed with a serious illness, which forced her to leave the group.   We are delighted to report that she is now back to full health and fitness, but for family reasons has decided to make her departure permanent.  She will always remain an integral part of the heart and soul of Red Priest, and the six CD recordings we made alongside memories of some 1000 often hair-raising concerts, numerous stroppy rehearsals, insane travel days and jolly post-concert celebrations - together with the almost continuous sound of her voice - will stay with us!

It was a small miracle that the perfect musician appeared precisely when needed!  Adam Summerhayes could not have fitted the bill better to fill Julia's role, and to take it and the group to new dimensions of baroque insanity.  Virtuoso violinist, multi-instrumentalist, composer, arranger, baroque-gypsy-klezmer-tango specialist, Adam has already made a considerable stamp on the group with his wild and wacky arrangements of Vivaldi. Biber and 18th century East European dance tunes as part of our new Gypsy Baroque project.  We have given several performances of this programme in European festivals over the summer, and will be heading into the recording studio (aka Adam's parents' acoustically magnificent kitchen) in November.

And ... this is Red Priest's 20th Anniversary season!  We will be celebrating with a concert in Kings Place, London on December 4th, entitled Better Red than Dead - 20 Years of Baroque Revolution.  That probably says it all, really...
March 2015
Handel in the Wind is on general release!  We're very happy with the press response so far - here are some of the early reviews (more to follow soon):
AAA Music
: "Wild, quirky, wicked, outrageous and excessive… and the occasional moment of exquisite beauty."  **** Very Good
The Classical Reviewer:
 "Some of the most spectacularly virtuosic playing you are likely to hear, always full of fun yet thoroughly musical… You really have to hear it to believe it!"
WDR3 (Germany)
: "72 minutes of pure pleasure!" 
The official London launch of the CD is coming up soon - anyone who missed our pre-release performance at King's Place in December will have another chance to hear the programme live in St George's Church, Hanover Square, on April 8th, as part of the prestigious London Handel Festival - tickets available
here
.   And if you miss this there will be another opportunity at the
Greenwich Early Music Festival
in November...
Catch us too on BBC Radio 3's 'In Tune' on April 2nd, in conversation with Sean Rafferty.
More from us soon!