CONCERT PROGRAMMES 2019/20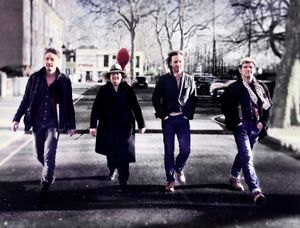 TRULY MADLY BAROQUE
Red Priest return to their roots as the world's most innovative and dynamic baroque ensemble with this blockbusting programme of favourites by masters of the period.    Featured works include Bach's Brandenburg Concerto no.5, an Adagio by the same composer (as featured in the movie Truly, Madly, Deeply), a transcription of Vivaldi's famous 4-violin concerto, an oboe concerto by Albinoni  and the celebrated Canon and Gigue by Pachelbel - concluding with a psychedelic arrangement of Tartini's Devil's Trill sonata, renamed Delerium Nocturnum!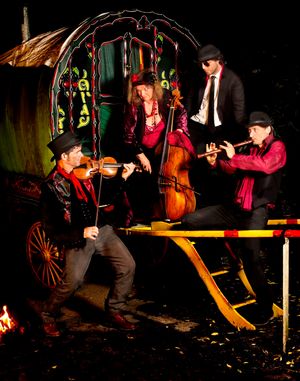 THE BAROQUE BOHEMIANS
In this  explosive programme  Red Priest explores the connections - real and imagined - between gypsy musicians and the master composers of the 17th and 18th centuries.  Were early baroque maestri such as Mielczewski and Biber inspired by the insane virtuosity and improvisational skills of the travelling gypsies of the time, or did the gypsies up their game when they heard the dazzling new instrumental techniques developed in court and church? And how might the music of Handel or Vivaldi sound in the hands of an 18th century (or more modern) gypsy band? Exploring the Eastern European folk influences ever present in the music of Telemann, and the recently discovered Uhrovska Collection of gypsy dance tunes from 1730, Red Priest combines its trademark baroque dynamism with true gypsy mayhem!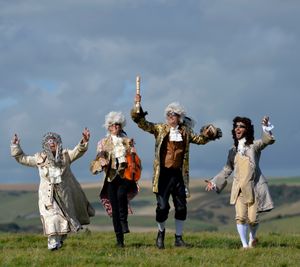 HANDEL IN THE WIND
Following the success of their programmes of Bach and Vivaldi Red Priest makes a whirlwind tour through the music of that other titan of the baroque, Georg Frederick Handel. Their programme includes trio sonatas, chaconnes and virtuoso variations, transcriptions both sublime and tempestuous from operatic works including Rinaldo, Zadok the Priest and Solomon, and an audacious suite drawn from his most celebrated work, The Messiah. This programme has been a huge hit with audiences and promoters alike, and shows the composer in an entirely refreshing light.